about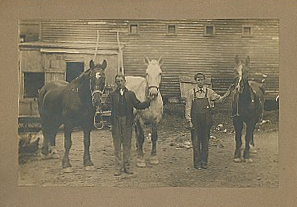 The Wood family originally came to North America in the late 1700s from Berwickshire, Scotland. In the late 1800s, Harry Roy Wood traveled from Nova Scotia to Arlington, MA, where he had six boys and a grandson named Donald. Harry began to move people from coast to coast in motor trucks out of Arlington, MA.
At the same time, Rufus and "Burpee" Burt Wood were starting Wood Bros. Moving & Storage in Portsmouth, New Hampshire in 1888. Rufus' son Cedric continued his father's business from age 17 until he retired at 65 years old in 1956, when he sold the business to his employee, Ted Walsh. Ted moved the company from State Street in downtown Portsmouth to its current location at 3607 Lafayette Road, Portsmouth, NH. After schooling, Ted's two boys Edward and William Walsh joined the company.
On August 17, 2007, Mark Harrington purchased Wood Bros. Moving & Storage and operates it today with the help of an exceptional staff.